For people who are seeking to build a solid online presence for their business, choosing a great design can be tricky.
The kind of design you choose can either make visitors covert or bounce.
Overview Of WordX Theme By MyThemeShop
If you are looking for the best WordPress blog theme that is 100% customizable, I personally recommend WordX.
Whether you are in the process of building your new business blog or feeling weary of your existing blog's design, WordX is a professional theme that will take it to a whole new level.
Thousands of people worldwide, including industry-leading brands, use WordX.
WordX lets your blog show up beautifully not only for search engines but also for your audience. It's fully responsive, which means that your blog will look great across all devices.
You might be asking.. Is the WordX theme worth it? Yes, definitely!
Proceed with this review to discover this theme's best features and benefits for you:
Why the WordX Theme?
1. 100% Responsive And SEO-Friendly: Satisfies mobile users.
WordX caters to the needs of today's massively growing number of people who rely on their smartphones and other mobile devices to browse online.
Because WordX is fully responsive, this means that no matter the device your audience will be using, your content-rich blog will always be stunning and user-friendly.
This theme is also SEO optimized which enables your blog to be properly indexed by Googlebot.
Remember that Google recommends responsive web design. So if you want your online business to have good SEO standing, WordX should be your top choice.
2. Professional Look You Can Customize: Creates a positive impression.
There's no doubt about it, aesthetics impacts your branding and how people perceive your website. A blog that has a well-balanced design makes it more likable and worthy of people's trust.
One reason why bloggers and marketers choose WordX is its professional design.
You also get to edit elements like layout style, color schemes, background colors, background pattern, typography, and more.
Being fully customizable, WordX can be used by anyone even without any coding skills.
All you have to do is work through MyThemeShop's Options Panel to achieve the look and feel of the blog you desire:
WordX offers you its post carousel widget feature.
This means that no matter the devices your visitors are using to browse your content, they'll be able to see thumbnails of your posts:
3. Built-In Ad Management: Maximizes your earnings.
MyThemeShop's team of experts included a built-in Ad Management control center where you can manage your ads with ease.
This special feature of WordX saves you the hassle of using separate plugins to control your ads.
It is also worth mentioning that WordX is optimized for AdSense. If you run an AdSense campaign, this is great news for you.
Simply paste your Google AdSense code and you're ready to get more clicks from your visitors.
WordX by MyThemeShop has integrated social media buttons so your pieces of content would get more likes, shares, and comments from your global audience.
Successful blog posts are those that are often read by many people. If you want to increase your blog readership and get a loyal following, you need the WordX theme to get more social shares.
When your social shares increase over time, your brand exposure enhances and you obtain more natural links. This will help improve your search engine rankings as well.
5. Optimized For Speed: Fast loading times.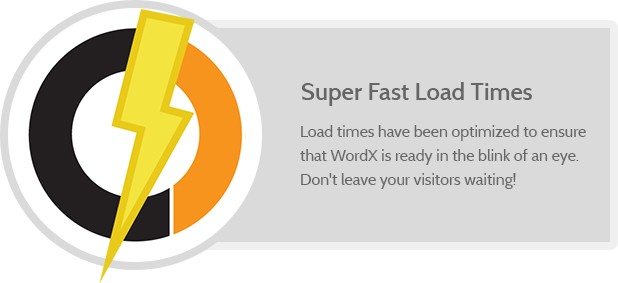 If you are serious about getting more visitors for your site and keeping them for real, you need a blog that's lightning fast.
Speed is a killer. Slow loading pages can lower people's trust for your brand and decrease your sales too.
WordX is a theme that does not only look great. It also satisfies even your most demanding readers with its fast performance.
No matter the number of your pieces of content, you won't have to worry about slow loading web pages.
6. One Theme For Unlimited Domains: Saves you money.
If you have multiple domains, you'll be able to use the WordX theme on more than one blog.
And if you're wondering whether you'll be able to have this theme installed on a site which you don't own (For example, a family member owns the site), yes you may.
This allows you to save money.
7. 24/7 Technical Support: Readily assists you with any issues.
Despite this theme's ease of use, WordX still comes with an amazing support team that's readily available to help you no matter the technical issue you're dealing with.
You can reach them regardless of the time of the day via their support forum. They'll be able to solve your issue within 1 hour.
Their support comes for free. You may only have to pay for special services like customization.
8. Tons of Free Video Tutorials
MyThemeShop offers you an ever growing library of over 10 free video tutorials.
These easy-to-follow tutorial videos will help you manage your WordX theme on your own. They cover (but are not limited to) the following topics:
Theme installation
Plugin installation
Uploading a logo and favicon
Adding dummy content
Increasing your site speed
Other Things To Know About The WordX Theme
Over 590 beautiful icons and fonts
Clean code (You can edit the theme for more personalization)
Shortcodes available (Hassle-free embedding of elements)
Compatible with WP Review
Off canvas mobile
Various sizes available for banners widget
Quick and easy installation
Author box with image and author bio
Guarantees low bounce rate
I also should mention that you'll be able to save more when you purchase MyThemeShop's extended membership plan.
This plan gives you access to all 98 premium WordPress themes, 16 free WordPress themes, over 20 plugins, PSD files, and more.
Wrap Up
You don't have to go through the hassle of changing from one theme to another and wasting money in the end.
WordX by MyThemeShop is an outstanding WordPress theme that lets you build the kind of blog you dream of – one that engages people, is optimized for SEO, ensures mobile responsiveness, and is easy to work with.
Don't forget how customizable WordX can be and how accessible their support team is for any technical concerns you have.